November 20, 2005, 1:14 pm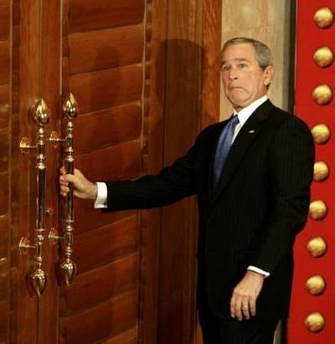 Posted without comment.
What more is there to say?
Yahoo has more on the door incident.


November 9, 2005, 4:14 pm
November 4, 2005, 8:47 am
... and it's been a busy month.
Kenneth Tomlinson Quits Public Broadcasting Board
The CPB's inspector general has been investigating Tomlinson's practice of using agency money to hire consultants and lobbyists without notifying the agency's board. Tomlinson last year hired a little-known Indiana consultant to study the political leanings of guests on such programs as "Now With Bill Moyers" and "The Diane Rehm Show" on National Public Radio. He also hired lobbyists to defeat legislation that would have changed how CPB's board is structured.

The inspector, Kenneth Konz, also had been looking into whether Tomlinson violated agency procedures in his recruiting of former Republican National Committee co-chairman Patricia de Stacy Harrison to be CPB's chief executive, and into possible White House influence in the hiring of two in-house ombudsmen to critique news programs on NPR and PBS.
now the bad news...
Despite his departure, the CPB remains firmly controlled by conservatives. Tomlinson's successor as chairman, Cheryl F. Halpern, is a longtime contributor to Republicans, including President Bush and Sen. Trent Lott (Miss.). Its vice chairman, Gay Hart Gaines, another Republican contributor, was a founder and former chairman of GOPAC, a powerful GOP fundraising group.